Course MD701 Winter 2010/11
Hybrid Media
Prof. Fetzner, C. Fischer, B. Dudzik
This seminar will reflect the relation of the face and its identity focusing on hybrid culture and the internet. In cooperation with the master seminar
IMMERSIVE MEDIA
at Furtwangen University
FACE/OFF Digital Crossculture Project


Tuesday, 12:30am in C3-120
First appointment: September 21, 2010
CENTRAL QUESTIONS
We will open an intercultural discussion between Egyptian and German students about their understanding of the face as a part of their identity and as an expression of their personality. As a starting point we will do a research on the semantics and the tradition of masks and how people nowadays present their faces on social platforms like facebook.
How does a manipulated vision affect our feelings and our social behavior? Why is there a popular social networking called FACE-book, how do we present our likeness in the web and how does this affect our construction of identity? How does religion, culture, fashion and sun glasses affect the appearance of our faces? How do we use our vision in Skype conversations? How does this feel and what is the difference between communicating by sound only, using video or having a real face2face communication? How does the use of the video in Skype affect the private and the public face? Which kind of interFACE are we going to use in 2020?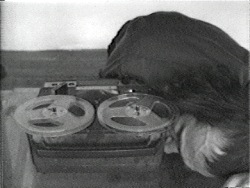 "No, no, no, don't tell this, don't reveal this...."
Vito Acconci in Face-Off, 1973

ACTIVITY WEEK
During the GUC activity week in the first week of December we plan to visit a partner class at Furtwangen University, which is dealing with the same topic during the semester. In a workshop about the intercultural aspects of the digital face we try to work out cultural characteristics which occur in the use of digital media.
FINAL ASSIGNEMENT
The final assignment of the course will be the construction of a hybrid and digitally transformed image during a fictional Skype dialogue which is based on an own story and technically realized by the software Max5. An accompanying scientific paper of 3-5 pages and a video documentation will contextualize students individual approaches with other art work and research in this field. The papers shall be delivered to conferences like the IVSA in Vancouver/CA and Transcultural Forms of Body Memory at the GUC in 2011.
---
Those without a report. Please send a self chosen paper, concerning our topic, from one of the well known libraries. Submit it before the Eid holidays
---
Date
Lecture
Practical Work
Assignments
2Read & Study
Minute & Report
OCT 26
Hybrid Culture and Identity
Improvised Skype perfromances - oppositions
Research about Skype; Wiki entry according to a scientific paper, Administration of our Facebook group
1. Improving Cross Cultural Communications through Collaborative Technologies
NOV 02
Conceptual Clearing Phase (CCP 1)
The Social Network - Movie
Work on Skype performance
1.Face/off in the body of the enemy by Robert Eikmeyer
NOV 09
Conceptual Clearing Phase (CCP 2)
Work on Skype performance
Work on Skype performance
Read and discuss online Mutual Incorporation by Fuchs and De Jaegher

NOV 16

Eid Holidays

NOV 23

Midterm Exams

Individual group meetings

will take place!!

DEC 07
Production Week
Work on Skype performance
Work on Skype performance
...
DEC 14
Activity Week at Furtwangen University. Workshop with the master course Immersive Media of Prof. Dr. Bruno Friedmann and Robert Eikmeyer
DEC 21
Final Supervision & 3 student reports
Class Discussion
WIKI Documentation
...
DEC 28
No lecture
free work
Enhancing Projects, WIKI Documentation
...
JAN 04
Final Presentation
Class Discussion
...
...
Assignments: apart from the weekly assignments (see syllabus), everybody has to do ONE presentation of a text and ONE minute of the weekly meetings.
---
GROUPS
---
BRAINSTORMING

---
GROUP MEETING SCHEDULE
9/11
2:15 - 2:45 : Salma El Alfy , Mahmoud Kamel , Aisha Ghaly & Rana Mansour
2:45 - 3:15 : Christine Ramez , Nora Kahil & Menna Mostafa
3:15 - 3:45 : Yasmin Shehab , Ghada Fikri & Ehab El Gamasy
3:45 - 4:15 : Perry Ahmed , Omar Gaafar , Sherif Bishara & Doaa Yousef
4:15 - 4:45 :Yasmin Kandil , Engy Allam , Salma Baki
---
Check out the following services: